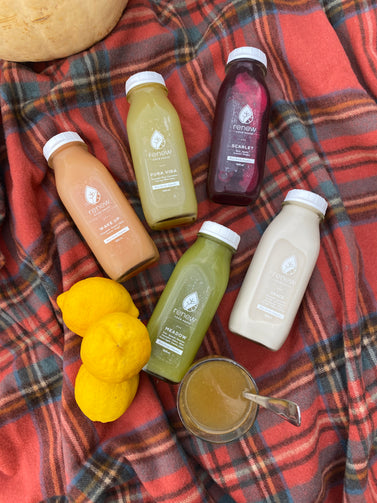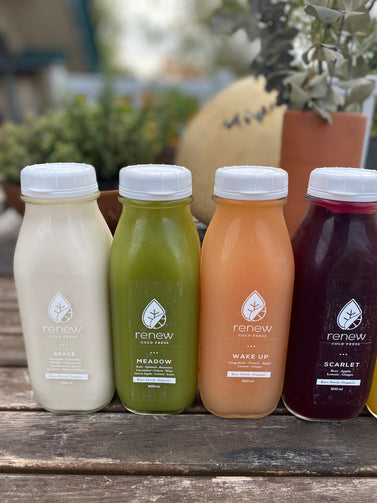 BONE BROTH + JUICE CLEANSE 3 day
BONE BROTH + JUICE CLEANSE 3 day
Regular price

$250.00 CAD

Regular price

Sale price

$250.00 CAD
THREE DAY includes
Recipe and ingredients for lemon water and organic unfiltered apple cider vinegar tonic.
6L Broth Total - 2 chicken turmeric bone broth, 2 classic bone broth (vegan option: super food mushroom), 2 superfood vegetable broth
9 Organic Cold Pressed Juices (Wake Up, Meadow, Scarlet - 500ml each) 
3 Organic Nut Mylk (Grace - 500ml) 
SOME SUGGESTIONS

aim for a beverage every 2 hours, sipped slowly
and mindfully
try to have 300-500ml of room temperature water
between each, adding a little fresh ginger, lemon, or cayenne 
sip herbal teas during the day
broths must be warmed + nut mylk can be gently heated if you crave more inner warmth 
OUR RECOMMENDATIONS

(wake) warm water + apple cider tonic 
(8-9am) wake up juice
(10-11am) 1L broth
(12-1pm) meadow juice
(2-3pm) scarlet juice 
(4-5pm) 1L broth
(6-7pm) nut milk
(8-10pm) unwind + lights out 
PLEASE AVOID
Heavy workouts, Meat, Dairy, Sugar, Grains, Legumes, Alcohol, Caffeine.
CLEANSE DAYS
Order by 12 noon on Sunday for pickup/delivery after 4pm Monday
Order by 12 noon on Wednedsay for pickup/delivery after 4pm Thursday
Pickup (LOLLO 60 George St.) or Delivery (Local Ottawa delivery - $10.00).
Couldn't load pickup availability